This post may contain affiliate links. See here for full details
I often talk about maximizing available storage space on the blog. I am a firm believer that many of us could greatly improve our day-to-day life simply by making sure everything we own has a space to live.
And when it comes to spaces that many of us don't maximize, bedroom closets often top the list. As a result, our closet floors and racks get overstuffed and finding anything in them becomes a major chore.
So today I'm going to give you some bedroom closet organization tips. Hopefully some of these tips will give you inspiration to finally maximize the use of your space!
1-) Understand your space
First thing's first: understand your bedroom closet. At the end of the day, a tiny closet is not going to hold as much as a large walk-in closet. Being aware of the strengths and limitations of your closet space when you work on organizing it will save you time and frustration.
Really getting to understand your closet space will often require emptying it out. Most of the time, you'll probably realize that your bedroom closet has more space than you initially thought. And once you empty it out you can note down awkward or hard-to-reach spaces that will require some creativity to make good use of.
2-) Determine the scope of what goes
One often overlooked mistake many of us make when it comes to our bedroom closets is that we don't explicitly decide what belongs (and what doesn't) in our closet.
What do we do instead? When something new arrives in our bedroom, we simply throw it in the closet and close the door. And then months later when we're going through our closet we find it and say "hey, I was looking for that!"
Deciding ahead of time what belongs and what doesn't in your closet will help prevent this from happening in the future and keep your closet organized for the long term.
3-) Consider two tiers of rods
At the end of the day, the lack of proper utilization of closet space comes down to not using the vertical space in it efficiently. Making small changes that make better use of the vertical space can have a drastic impact on how well organized your closet feels. 
If you have a lot of clothes that you hang, an easy way to fix this is to use two rods (one on top and one in the middle). It will help spread out your clothes so individual articles are easier to find. The extra rod space will also make it easier to arrange and organize your hung clothes.
4-) Try out cubes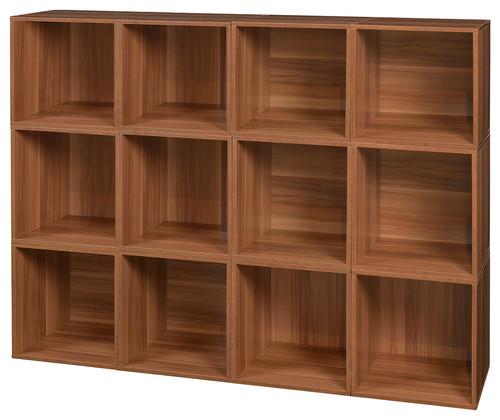 Cube storage, whether it be in the form of simple boxes you buy or solid cube storage furniture, can be a closet lifesaver! Their square shape is extremely flexible for many different types of items, which also means they will likely continue to work for you even as the contents of your closet change over time. Plus, many cube storage systems from Target or Ikea are inexpensive, so you won't have to break the bank to get them!
5-) Use quality hangers
If your closet is full of wire hangers, it's time to change that! Good quality hangers are not only better for the integrity of your clothes, they also can provide small amounts of extra storage space! And if you change all your hangers over, it definitely adds up!
Bonus tip: if you have a lot of wire hangers, don't throw them out! Prevent them from going into landfill by donating them to your local dry cleaner. Most will be happy to take them!
6-) Utilize the door
I'll be honest, I'm one of the few organizing-obsessed people who isn't a huge fan of over-the-door organizing. They can make closing the door difficult, and  if they are heavy they can clank against the door when you open it.
That said, over-the-door organizers can be very useful (and yes, I do use them when necessary). And if you still need more storage space after you tackle the main part of your closet, then don't hesitate to use your closet door. However, I do recommend you stick to lighter items in them in an effort to protect the integrity of the door itself.
There you have a few bedroom closet organization tips to get you started!! For more organizing tips, check out How to Organize a Small Pantry, How to Organize an Office Space (when you don't have an office), and Five Steps to an Organized Kitchen.