This post may contain affiliate links. See here for full details
You guys…
I have talked about coming up with a good pots and pans storage solution as part of your kitchen organization strategy several times on the blog, and I have yet to provide you with a good set of options…
Oops!
But now that I've realized my hiccup, I've put together a good list of options that will help you organize those stubborn pots and pans once and for all! So let's check out some of the pots and pans storage solutions out there:
If you're looking for something simple, a freestanding pots and pans rack may be just what you need. You could pop one of these right in a cabinet or (if you have the space) even on the counter!
Your key to an organized home

I can't believe I don't see more cookware stands out there! These cookware stands are perfect if you don't want to use cabinet space for your pots and pans storage and can't (or don't have the space) use your walls. Depending on the number of pots and pans you have, you can get multiple sizes, including ones like this 8-tier stand and this 6-tier stand.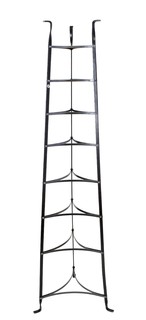 If you're willing to dedicate a whole cabinet to your pots and pans and can handle a little installation, then these gliding cabinet organizers may be the perfect fit! They come in multiple sizes for different cabinets (such as the 12 inch and the 20.75 inch). This organizer also handles both lids and pots/pans, but if you don't need a solution for the lids then a simple hanging organizer like this will also do the trick!
It's no secret that I'm a fan of organizing with pegboards (want proof? check out my craft corner bar!), but did you know that they make pegboards designed specifically for organizing kitchen tools?! That's right…let your mind be blown!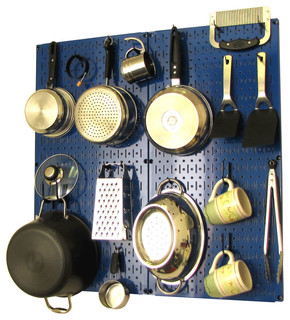 Although
ceiling racks
for pots and pans have fallen out of style, they deserve some attention here. They are a good solution if you have fairly high ceilings and and island to hang it over.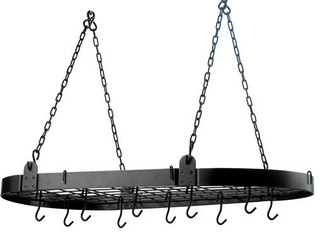 This is what we use in our home now! If you have a smaller wall that you can add multiple simple rails to, then this is a super functional way to hang your pots and pans! Check out the image at the top of the post to see how we use
these simple rails
! And if you're looking for a more rustic look,
check out these rails
!
There you have pots and pans storage solutions for virtually any kitchen!
If you're not yet ready to work out your pots and pans storage, don't forget to PIN THIS POST for future reference!
For more kitchen organizing ideas check out 5 steps to an orderly kitchen, how to organize a small pantry, and 5 one-time tasks to keep your kitchen organized for good!