This post may contain affiliate links. See here for full details
Oh boy!
Christmas is coming, and faster than you may realize. If you haven't already started planning out your Christmas gifts, now is the time to start!
When I work out Christmas gift ideas, I always think about what the people in my life enjoy. Most of the people I know appreciate useful gifts, so organizing gifts fit the bill perfectly! If you know anyone who really enjoys getting organized, consider some of these organizing gift ideas for Christmas:
I had a travel organizer similar to this one for my toiletries when I backpacked through Europe and it was a game changer! If you know someone who likes to be organized and travels (either for work or for fun), then a travel organizer is an absolute must!
And if you want to gift a super stylish travel organizer, Pottery Barn offers an adorable gingham pattern organizer! Too cute!

I didn't know purse organizers existed until I actually received one as a gift for Christmas myself one year. However, I've been using it all the time ever since! Not only do purse organizers keep all the bits and bobs in the purse organized, they also make transferring everything really easy if you like to change which purse you use on a regular basis… just pull the organizer out of the old bag and place it in the new bag! Seriously, these organizers make an amazing gift for anyone who owns a purse!

If you know someone who loves all the teas then a tea organizer will be a great gift. Personally, I drink about 2-5 cups of different teas daily, and finding the tea that I'm craving at any given point gets time consuming! Save your tea-loving friend/family member time and energy by helping them make finding their favorite teas easy!

The struggle is real when it comes to keeping the car organized, even for people who like to be organized. One part of the issue is that we spend less time in our cars than we do in our homes. The other part of the issue is that cars generally don't have good storage space. You can help someone with the latter issue by getting them a simple car organizer for the back of the seat or the trunk! Some (like this one) even have ways to attach an iPad so that kids can watch their favorite shows while on the road!
Do you remember how good it felt when you did back-to-school shopping and got fresh notebooks and pencils when you were little? Most people who like to organize feel the same way when they get a new planner for the next year!
The cool thing about planners is that they come at a variety of price points to use as stocking stuffers (such as a pocket planner) or as main gifts (such as the Living Well Spending Less planner). Whatever you decide, I'm sure they will love it!

If you know someone who carries around a lot of gadgets, then a grid-it organizer may be the perfect gift! These general organizers are great for neatly arranging electronics, chargers, notepads, pens…just about anything you can think of! It's the perfect gift idea that combines thoughtfulness and usefulness in one!
7-) Command center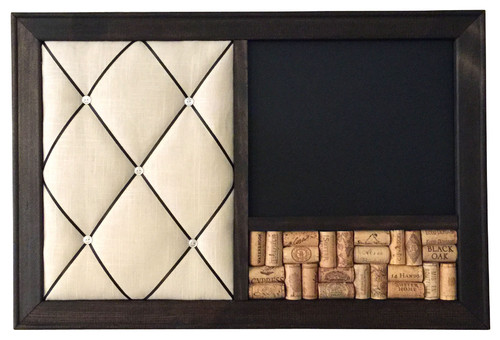 Command centers are a great gift idea if you know someone who is working to get organized but yet doesn't own one! Older command centers have a kind of sterile, office-looking feel, but more and more I'm seeing different wall organization systems that are as classy as they are functional (such as this memo board). Show your thoughtfulness to your friend/family member by finding one that matches their style!
There you have my organizing gift ideas for Christmas! For more gift ideas check out buffalo check home decor under $100 and the most practical items you need to stay organized with a new baby.